Peace Lutheran Church was founded in June 1876. In 1881 a church was built on Ridge Ave with landed donated it by the influential Carnes family. The church was first called Friedence Church and then North Industry Evangelical Lutheran Church. In 1886 it had 43 adult members. The church slowly grew as part of a two point parish until 1948, now with 263 members, it was large enough to call its own first full-time pastor. In 1964, the church renamed itself Peace, however this name was actually its first name: friede is the German word for peace. The congregation outgrew its building so plans were developed for a new, larger building on Cleveland Ave. Peace worshipped in its new building in 1974. Peace has changed much over its almost a century and a half, but it remains a place to "share Christ, serve the community, and grow God's kingdom." It also remains a place for you!
Peace is a member of the Evangelical Lutheran Church in America (ELCA). http://www.elca.org
---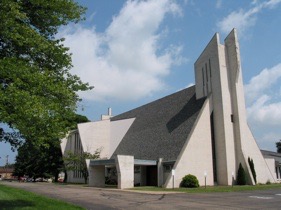 Peace Lutheran can be found at 3828 Cleveland Avenue South, in Canton South. It has long been a congregation known for its commitment to God, and our Lord, Jesus Christ, and has long been a focal point for service to the Canton South community. Although Peace has just recently had its Pastor take a call in Illinois, the members of the congregation have pledged to maintain its service to God through its many programs and stong emphasis on the teaching of the Gospel and Lutheran beliefs through the Sharing Christ, by Serving the Community, and Growing the Kingdom until a new pastor is called. We welcome you to become a part of this new beginning.